William T Flannery Sr at 82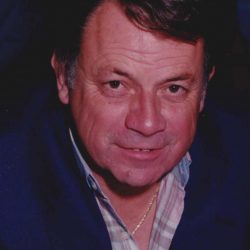 William T. Flannery Sr., 82, of Holliston passed away peacefully surrounded by his family Friday, January 12, 2018. Born in Boston, he was the son of the late Muriel (Lynch) and Walter F. Flannery. He was married 55 years to his beloved Linda (Darst) Flannery of Holliston.
A Veteran of the US Army, Bill had worked 38 years as a Stop & Shop Maintenance Superintendent until his retirement in 1997. He was a devoted family man, enjoyed travelling, and was happiest when using his skills while fixing, tinkering, or improving things for family and friends.
He is survived by his wife Linda and three sons; William Jr. and his wife Julie of Chicago, IL, Michael of Louisville, KY, and Jeffrey and his wife Sharon of N. Grafton, MA. He leaves behind four grandchildren, Michelle, Jake, Jess, and James Patrick. He is predeceased by his sister, Donna Creelman of Auburn, MA.
Visitation will be held on Wednesday, January 17th from 4:00-7:00 p.m. at Chesmore Funeral Home, 854 Washington St., Holliston.

www.ChesmoreFuneralHome.com

. A funeral mass will be celebrated onThursday, January 18th at 10:30 a.m. at St. Mary's Church in Holliston. The burial will be held privately at Bourne National Cemetery. In lieu of flowers, donations may be made to The Holliston Food Pantry, 73 Charles St. Holliston, MA 01746